Helping The Regent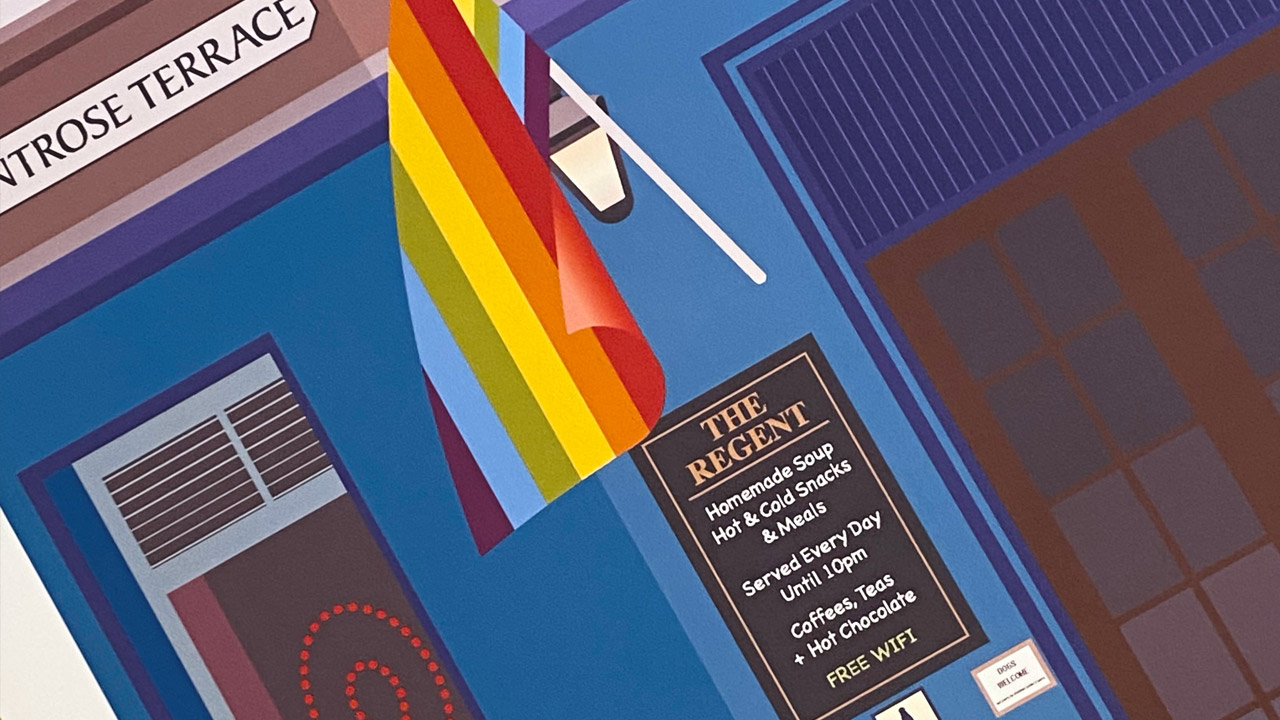 Whilst scrolling through Twitter recently, a tweet about Edinburgh pubs caught my attention.
A short video was a call to action for residents of Edinburgh to support their local. The hospitality industry, like many others, is facing a very bleak future. A third of pubs are struggling to break-even after lockdown. As I walk around my beautiful city, I've become aware of the number of 'For Sale' and 'To Let' signs that are now adorning the outside of pubs and restaurants.
The organisers say they want to help, and gave the Edinburgh creative community a challenge. Produce an 'ode' to our locals in the form of a poster that can be sold on their online store. Profits from sales are to be split evenly, with proceeds going to both the establishment featured on a poster, and the artist who created it.
Since arriving in Edinburgh in 1991, I've witnessed the slow and steady decline in numbers of LGBT+ pubs and clubs. A once vibrant gay scene, that stretched across the city, has now been restricted to a handful of bars, mainly corralled into Greenside Place.
An exception to this is The Regent, that sits by itself, on the east side of the city centre. I only got to know this pub relatively recently, as it is close to my boyfriend Brian's apartment.
Before COVID, we'd often wander up there early on a Saturday evening, for a couple of drinks and a bite to eat. The owner Alan Regent – aka legendary DJ Alan Joy – and his staff make everyone feel welcome. The ambience is always friendly and relaxed. There's no loud pumping music that you need to compete with. Conversations with friends, or even strangers, could take place without anyone having to shout at one another. In addition, The Regent is also a dog-friendly pub. This meant that Brian and I could take Smudge along with us, rather than abandon him at home.
It would be desperately sad for Edinburgh to lose any more of its LGBT+ venues. So picking The Regent, as the local to feature on my poster, was an easy choice for me. Illustrated in the same flat graphical style, as my other [gawr-juhs] art posters, I've paid particular attention to the architecture of the building, as well as the details of the pub and pub signage.
Although I submitted my poster to the project mentioned above, the organisers didn't seem that keen to include it. They wanted to make design changes, and then failed to respond to my subsequent correspondence. So instead of wasting any more time, I've decided to get prints done myself, sell the poster from my online store, and make a donation from each sale to The Regent directly.
I hope that everyone who loves this pub as much as I do, will now support the venue by purchasing this poster. It would be excellent to raise a bit of cash to assist The Regent, especially as it looks like local lockdowns are going to continue for quite some time.
And as I am a self-employed designer, who has received no financial assistance whatsoever during lockdown, it would be rather pleasing to earn a couple of quid for my efforts too!